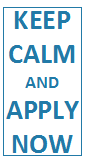 If you are a US citizen or eligible non-citizen, file your 2021-2022 Free Application for Federal StudentAid (FAFSA) at FAFSA.gov to apply for federal, state, and CSU programs.
If you are not eligible for federal financial aid, file your 2021-2022 California Dream Application at CA Dream Act to apply for state and CSU programs.
Whatever you do, don't miss the March 2, 2021 priority filing deadline. More information on deadlines and the financial aid application process are available on our Deadlines page.